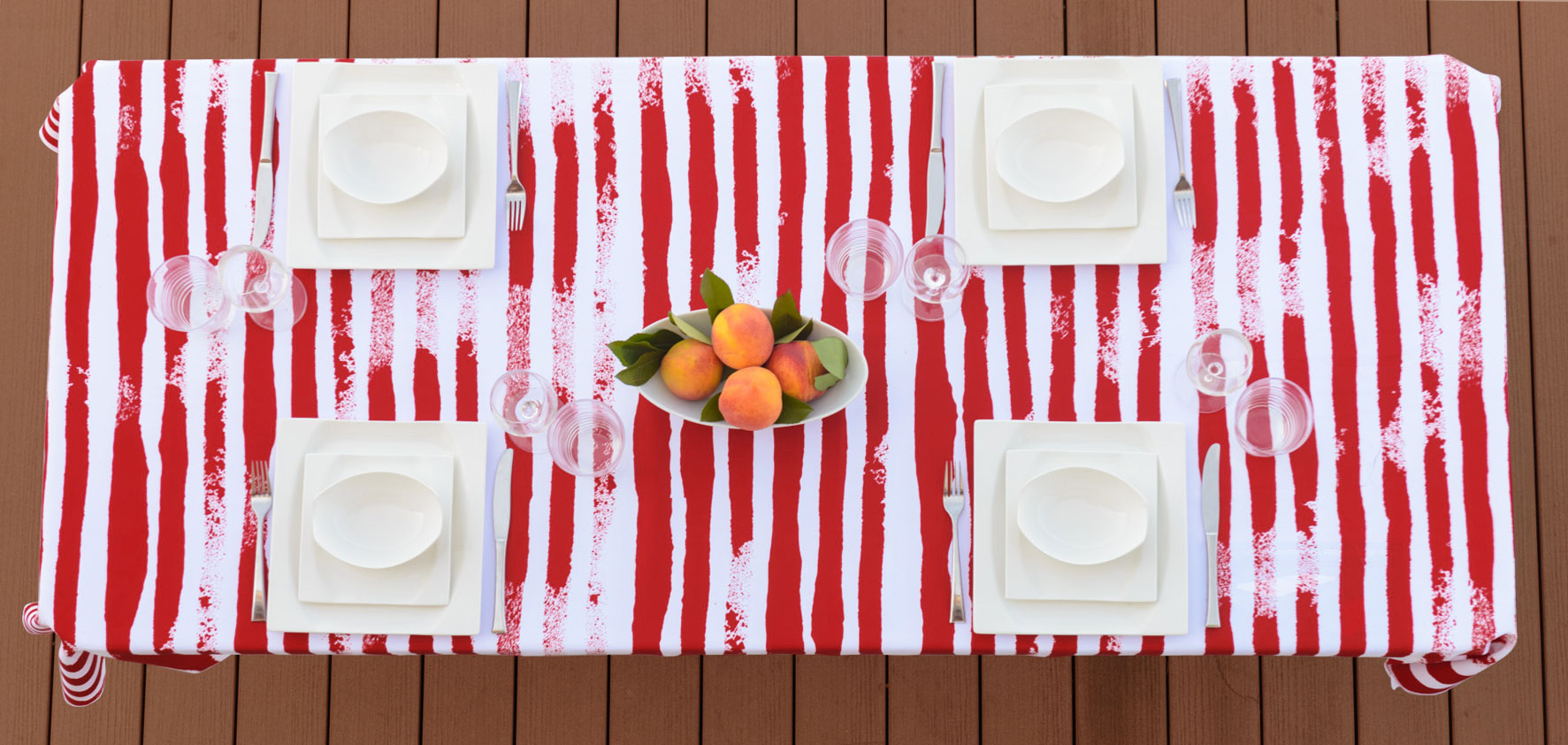 What is BottleCloth?
BottleCloth is a line of sustainably sourced housewares, including tablecloths, placemats, runners and napkins – made from 100% recycled plastic bottles.

Through a multi-step process, the plastic bottles are made into a thread, which is then woven into a polyester cloth, resulting in a fabric that closely resembles woven cotton.

The end result is a modern-day woven polyester fabric that is highly durable, extremely soft, low maintenance, and spill-resistant.

Why BottleCloth?

BottleCloth's innovative line of modern, eco-chic table linens blends modern design with cutting edge fabric sourced from recycled plastic bottles for the perfect combination of form and function.

Our tablecloths, placemats, runners & napkins are highly functional, super low-maintenance, spill-resistant and ideal for family gatherings.

Create memorable moments around your table with BottleCloth sustainable linens.

BottleCloth's Mission

At BottleCloth, every decision we make is by guided by our belief in 4 core principles:
1. Sustainability
2. Utility
3. Modern Design
4. Celebrate Everyday

Sustainability
Using fabric made from recycled plastic bottles and transforming them into table coverings is an essential part of BottleCloth's eco-mindful mission.

Our goal is to never create a product from virgin stock. Everything we create is sourced from existing materials. Recycled plastic bottles are our current chosen material, utilizing a source that would otherwise pollute oceans and landfills.

Utility
The fiber that is born from the recycling process produces products that are highly durable, easy to maintain and easy to use.

Every BottleCloth product is spill resistant and is easily spot cleaned. For deeper cleaning, machine wash and dry. Your BottleCloth product won't fade or lose integrity.

Modern Design
As durable and easy to maintain as our products are, it's just as important (if not more so) that they look great and match your lifestyle.

We strive to create colors and patterns that are both practical and aesthetically eye catching.

Our mission is to enhance daily life by bringing art into your home and onto your table, elevating the mood of every occassion.

BottleCloth's debut Inspiration Collection is a compilation of fluid brushstrokes representing freedom of movement, bold colors and contemporary geometric shapes (infusing a bit of humor and a modern spin on traditional gingham designs). Brenda's modern interpretation of tabletop chic can be seen in every detailed BottleCloth table covering.

"To put something on the table that is artistic and interesting will enhance the atmosphere and conversation around the table." – Brenda.

Celebrate Everyday
Protecting the environment, creating value for your purchase and clean aesthetics are definitely core values. But above all else, what matters most is the time we all share together with friends and family around the table, sharing our experiences and dreams for a full life. If we can provide a backdrop that elevates that shared experience, then we have fulfilled on our potential.